ApoMark FL488 Apoptosis, Immunofluorescence Kit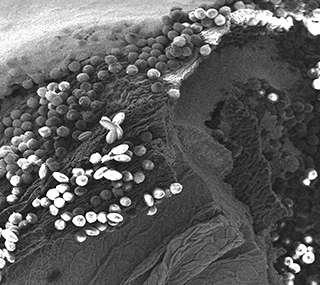 Size
30Tests
Catalog no#
X2835K1
Price
382 EUR
Product Category
Apoptosis
Application
Apoptosis quantitation
Description
This 1 is suited for programmed cell-death studies.
Shipping Conditions
Ship on gel ice, store at -20ºC immediately upon arrival
Storage conditions
ApoMark FL488 Apoptosis, Immunofluorescence Kit it at -20ºC until first use. Thaw for 30 minutes before first use. Keep components cold using cold block or ice while using. Return to -20ºC after use.
Test
Immunofluorescence kits are used for light microscopy with a fluorescence microscope and is used primarily on microbiological samples. This technique uses the specificity of antibodies to their antigen to target fluorescent dyes to specific biomolecule targets within a cell, and therefore allows visualization of the distribution of the target molecule through the sample. Immunofluorescence is a widely used example of immunostaining and is a specific example of immunohistochemistry that makes use of fluorophores to visualize the location of the antibodies.