Apoptosis-inducing factor 1, mitochondrial antibody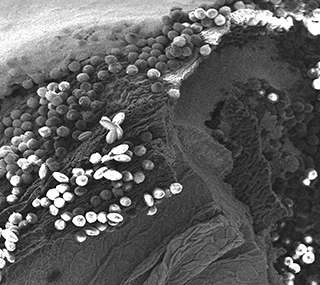 Size
100ug
Catalog no#
MA10005MO
Price
618 EUR
French translation
anticorps
Clonality
Monoclonal antibody
Category
Monoclonal antibodies
Also known as
Human Apoptosis-inducing factor 1, mitochondrial(AIFM1) antibody
Long name
Mouse anti-human Apoptosis-inducing factor 1, mitochondrial(AIFM1) monoclonal antibody
Properties
If you buy Antibodies supplied by AbELISA Antibodies they should be stored frozen at - 24°C for long term storage and for short term at + 5°C.
Storage and handling
For short term storage keep refrigerated at temperature ranges between 1 and 6 deg. Celcius. For long term storage freeze the antibodies at -20 degrees Celcius.
Advisory
Avoid cycles of freezing and thawing as they may denaturate the polypeptide chains of the antibody and lower its reactivity, specificity and sensitivity. For antibodies that are in liquid form or reconstituted lyophilized antibodies small amounts could become entrapped on the seal or the walls of the tube. Prior to use briefly centrifuge the vial to gather all the solution on the bottom.
Description
This 1 is suited for programmed cell-death studies.Aplha, transcription related growth factors and stimulating factors or repressing nuclear factors are complex subunits of proteins involved in cell differentiation. Complex subunit associated factors are involved in hybridoma growth, Eosinohils, eritroid proliferation and derived from promotor binding stimulating subunits on the DNA binding complex. NFKB 105 subunit for example is a polypetide gene enhancer of genes in B cells.