Rabbit anti Apoptosis inhibitor of macrophages (CT)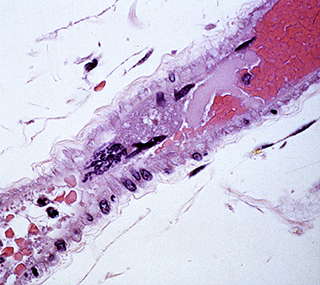 Size
100 μg
Catalog no#
X1782P
Price
369 EUR
Antibody is raised in
Rabbit
Antibody's reacts with
Human, Mouse
Antibody's specificity
No Data Available
Category
Primary Antibodies
Latin name
Oryctolagus cuniculus
Antibody's reacts with these species
This antibody doesn't cross react with other species
Antigen-antibody binding interaction
Rabbit anti Apoptosis inhibitor of macrophages (CT) Antibody
Other description
Provided as solution in phosphate buffered saline with 0.02% sodium azide. Antigen Immunoaffiinity Purification
Antibody come from
Rabbit polyclonal PID antibody was raised against a synthetic peptide corresponding to amino acids 652 to 668 of human PID/MTA2 (6), which differ from the mouse sequence by one amino acid (7).
Antibody's suited for
PID/MTA2 antibody can be used for detection of PID/MTA2 by Western blot at 0.5 to 1ug/ml. HeLa cell lysate can be used as positive control and a 75 kDa band can be detected. It is human, mouse, and rat reactive and has no cross response to MTA1.
Warnings
This product is intended FOR RESEARCH USE ONLY, and FOR TESTS IN VITRO, not for use in diagnostic or therapeutic procedures involving humans or animals. This datasheet is as accurate as reasonably achievable, but Nordic-MUbio accepts no liability for any inaccuracies or omissions in this information.
About
Rabbits are used for polyclonal antibody production by nordc. Rabbit antibodies are very stable and can be stored for several days at room temperature. nordc adds sodium azide and glycerol to enhance the stability of the rabbit polyclonal antibodies. Anti-human, anti mouse antibodies to highly immunogenic selected peptide sequences are" monoclonal like" since the epitope to which they are directed is less than 35 amino acids long.
Long description
Apoptosis inhibitor of macrophages (AIM) is a member of the scavenger receptor cysteine-rich domain superfamily (SRCR-SF) initially identified as an inducible cell surface ligand of CD5. It was shown that AIM functions in the thymus as the inducer of resistance to apoptosis within CD4+/CD8+ thymocytes and as the supporter of the viability of these cells before thymic selection. AIM was also shown to support macrophage survival and enhance their phagocytic function. More recent experiments using recombinant AIM significantly inhibited apoptosis of NKT and T cells obtained from C. parvum-stimulated livers in vitro, suggesting that AIM functions to induce resistance to apoptosis in these cells and supports host defense against inflammation during infection.
Relevant references
1) Matsuoka S, Huang M, Elledge SJ. Linkage of ATM to cell cycle regulation by the Chk2 protein kinase. Science. 1998;282:1893-7. _x000B_2) Tanaka H, Arakawa H, Yamaguchi T, Shiraishi K, Fukuda S, Matsui K, Takei Y, Nakamura Y. A ribonucleotide reductase gene involved in a p53-dependent cell-cycle checkpoint for DNA damage. Nature. 2000;404:42-9._x000B_3) Oda E, Ohki R, Murasawa H, Nemoto J, Shibue T, Yamashita T, Tokino T, Taniguchi T, Tanaka N. Noxa, a BH3-only member of the Bcl-2 family and candidate mediator of p53-induced apoptosis.Science. 2000;288(5468):1053-8._x000B_4) Oda K, Arakawa H, Tanaka T, Matsuda K, Tanikawa C, Mori T, Nishimori H, Tamai K, Tokino T, Nakamura Y, Taya Y. p53AIP1, a potential mediator of p53-dependent apoptosis, and its regulation by Ser-46-phosphorylated p53.Cell. 2000 Sep 15;102(6):849-62.
Description
This antibody needs to be stored at + 4°C in a fridge short term in a concentrated dilution. Freeze thaw will destroy a percentage in every cycle and should be avoided.This 1 is suited for programmed cell-death studies.Tissue, pathway, proteinase, peptidase, protease ,acrosin, lipoprotein, activator, caspase, trypsin, papain, esterase inhibitors are proteins or receptor ligands or receptor antagonists that bind to an enzyme receptor and decreases its activity. Since blocking an enzyme's activity can kill a pathogen or correct a metabolic imbalance, many drugs are enzyme inhibitors. Not all receptor antagonist that bind to enzymes are inhibitors; enzyme activator ligands or agonists bind to enzymes and increase their enzymatic activity, while enzyme substrates bind and are converted to products in the normal catalytic cycle of the enzyme.