Rabbit anti Survivin (NT) (TIAP) (Inhibitor of Apoptosis)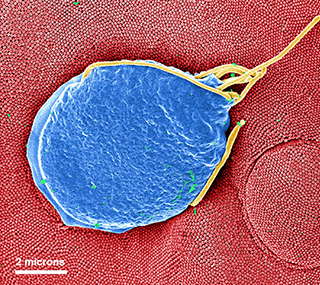 Size
100 μg
Catalog no#
X1131P
Price
369 EUR
Antibody's reacts with
Human
Antibody is raised in
Rabbit
Antibody's specificity
No Data Available
Category
Primary Antibodies
Latin name
Oryctolagus cuniculus
Antibody's reacts with these species
This antibody doesn't cross react with other species
Antigen-antibody binding interaction
Rabbit anti Survivin (NT) (TIAP) (Inhibitor of Apoptosis) Antibody
Antibody come from
Antibody raised against a synthetic peptide corresponding to amino acids 1 to 12 of the human survivin protein.
Other description
Provided in phosphate buffered saline solution containing 0.02% sodium azide as a preservative. Antigen Immunoaffiinity Purification
Antibody's suited for
Detects survivin protein by Western blot at 0.5 to 1 µg/ml. Detects 17 kDa band in MOLT4 cell lysate. Optimal concentration should be evaluated by serial dilutions.
Warnings
This product is intended FOR RESEARCH USE ONLY, and FOR TESTS IN VITRO, not for use in diagnostic or therapeutic procedures involving humans or animals. This datasheet is as accurate as reasonably achievable, but Nordic-MUbio accepts no liability for any inaccuracies or omissions in this information.
About
Rabbits are used for polyclonal antibody production by nordc. Rabbit antibodies are very stable and can be stored for several days at room temperature. nordc adds sodium azide and glycerol to enhance the stability of the rabbit polyclonal antibodies. Anti-human, anti mouse antibodies to highly immunogenic selected peptide sequences are" monoclonal like" since the epitope to which they are directed is less than 35 amino acids long.
Relevant references
1. Ambrosini, G., et al. A novel anti-apoptosis gene, survivin, expressed in cancer and lymphoma. Nat. Med. 1997, 3, 917-921_x000B__x000B_2. Li, F., et al. Control of apoptosis and mitotic spindle checkpoint by survivin. Nature 1998, 396, 580-584_x000B__x000B_3. Kobayashi, K., et al. Expression of a murine homologue of the inhibitor of apoptosis protein is related to cell proliferation. Proc. Natl. Acad. Sci. USA 1999, 96, 1457-1462
Long description
Apoptosis, or programmed cell death, is related to many diseases, such as cancer. Apoptosis is triggered by a variety of stimuli including members in the TNF family and prevented by the inhibitor of apoptosis (IAP) proteins. IAP proteins form a conserved gene family that binds to and inhibits cell death proteases. A novel IAP protein was recently identified and designated survivin, apoptosis inhibitor 4 (API4), and TIAP1-3. Survivin/TIAP interacted with the processed form of caspase-3 and inhibited its proteolytic activity. Survivin/TIAP is predominantly expressed in tissues of embryos, transformed cell lines, and many human cancers and lymphomas1,3.
Description
This antibody needs to be stored at + 4°C in a fridge short term in a concentrated dilution. Freeze thaw will destroy a percentage in every cycle and should be avoided.This 1 is suited for programmed cell-death studies.Tissue, pathway, proteinase, peptidase, protease ,acrosin, lipoprotein, activator, caspase, trypsin, papain, esterase inhibitors are proteins or receptor ligands or receptor antagonists that bind to an enzyme receptor and decreases its activity. Since blocking an enzyme's activity can kill a pathogen or correct a metabolic imbalance, many drugs are enzyme inhibitors. Not all receptor antagonist that bind to enzymes are inhibitors; enzyme activator ligands or agonists bind to enzymes and increase their enzymatic activity, while enzyme substrates bind and are converted to products in the normal catalytic cycle of the enzyme.